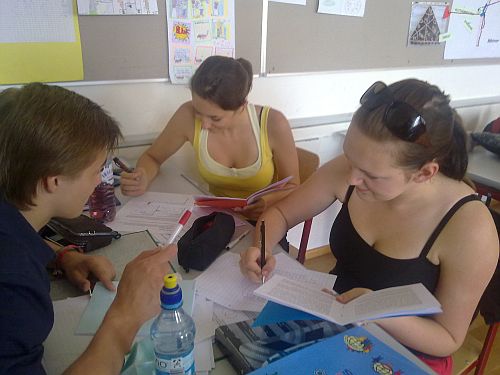 After reading lots of young adult literature and working in book groups in order to understand more than just the plots of their books,  my students are ready for REAL LITERATURE.
At GIBS this happens towards the end of year 5 — if you do not teach in a bilingual school, year 7 will probably be a better choice.
Seeing the world through other people's eyes
(to stop the eye, press ESC)
When reading literature our main focus is still on seeing and understanding the world through other people's eyes and getting to know other cultures, lifestyles and times.
Students who have enjoyed good young adult literature and have realized that books actually help them understand the world a bit better, will use these skills when reading adult literature as well. We spend only little time analyzing formal aspects of literature or discussing symbolism and author's biographies. We rather ask ourselves questions such as:
What does this book tell me about life in a certain place or at a certain time?
What is the character's problem?
What would I do in this situation? Have I experienced anything similar?
Could this happen in our country and time?
The basic organization of the book projects is similar to those in earlier years. My students choose one of the books of the project, they keep a reading diary and then work in their reading-groups. In the end they present the book to the class using creative and interesting activities to engage their audience.
Classes who have had a lot of experience with reading projects in lower  and middle school need very little guidance and hardly any worksheets for these book projects. Other classes with less experience might need more detailed instructions and step-by-step activities in order to understand and appreciate a novel.
My favorite tools for upper-school reading projects
Tips for keeping a reading diary (for upper-intermediate to advanced learners)
Book circles 1 A very open task-sheet for upper school book groups
Book circles 2Another general task-sheet for discussion and presentations
Mixed book circles 3 A short, open task-sheet for sharing different books
Character Profiles An interesting way to understand a character's actions and decisions better. Based on NLP techniques. Tip: print two pages on one to see the instructions and the profile on one sheet.
Booklets These booklets are my absolute favorites.
Presentations Go to my page on ideas for creative book-presentations for all ages.
Great Literature for Advanced Students
For detailed projects and work-packages designed for specific novels or plays, go to Great Literature for Advanced Students. There you will find my students' favorite novels and printable worksheets for some of the books. Some of these packages are very detailed and extensive. They are meant to be completed by a group of students, not by an individual. The learners work on the projects in class (usually 3-4 hours) and each group-member contributes one or two writing tasks to the final project. The writing tasks are done at home.
By sharing the work, the students get a wider understanding of the novel without having to invest an ungodly amount of time into the project.

Leave a Reply
You must be logged in to post a comment.