Speaking activities in class are certainly one of the most important things good language teachers will do regularly with their students. Unfortunately, it is not always easy to implement this. Large group sizes and time restraints often get in the way. For this reason, speaking homework is a great solution.
In my classes students produce a written and an oral product for each topic. The speaking task is always recorded and shared with the class.
I use clyp.it or vocaroo for audio recordings
and flipgrid for video recordings.
Another useful tool for recording short audio or video files is padlet.
Have a look at the following speaking tasks, produced by my students.
Year 1 speaking examples: click on the image to open the video gallery.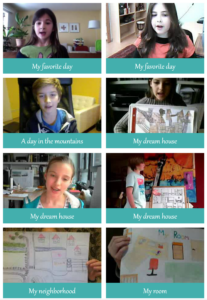 More ideas:
go to my page on: Digital storytelling
There you'll  find book trailers produced by my students (ages 13 to 16)
Leave a Reply
You must be logged in to post a comment.