Early Starts: Tasks for Young Learners
CEFR: A1 – A2
"Me Books": Writing about myself and the world around me

Tip:

When students write about their own lives and experiences they will remember the new language better.

Make new topics RELEVANT to the learners' lives. Ask for TRUE, not only CORRECT texts.
Me-books are personal treasures where the learners write about themselves and the world around them.  At beginners level (A1) the kids learn to talk about themselves, their hobbies, their likes and dislikes, their families and friends, their pets and similar topics of interest. As they progress, their texts become more and more personalized. In mixed ability groups me-books are a perfect tool to allow each learner to write at their own skills level. 
Make sure the texts are not written into a homework book that will only be read by the teacher. Carefully designed me-books instill a sense of ownership to the learners. They will treat them with care and put a lot of effort into their entries. By sharing the me-books regularly in class, students learn from each other and set higher standards for themselves.  
Originally,  we used regular notebooks for the Me-books. The kids designed a beautiful personal cover for their Me-book and used the first double page for a table of contents. All other pages were designed by the kids, according to the topic that we had worked on.
In recent years this approach did not work so well. Many kids need more scaffolding. My colleague and I have therefore designed Me-books that guide the kids towards free writing. They need more help with collecting ideas and putting them into a meaningful format and can then be proud of their achievements.
Here is a sample copy of these Me-books. Click on the image to open the file.
If you would like to use these Me-books with your learners, send an e-mail to: 
c r e a t i v e . l a n g u a g e t e a c h e r s (at) g m a i l . c o m
Below you will find some of the free Me-books that were written without any templates. Click on the images to see them in full size.

Writing Games: Matching pictures and texts
Funny Creatures:
Students are asked to draw a funny creature that constists of parts of different animals. On a separate sheet they describe their creature in detail (thus practicing the words for body parts, colors and the genitive 's (It has a lion's head…) Collect the drawings and the texts and put a letter (A-Z) on each drawing and a number on each text-sheet. Then post all the sheets on a wall. The students now read all the texts and find the matching creature. They write the letter + number combinations on a sheet. The student with most correct answers wins a little prize.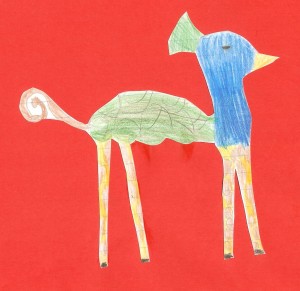 The same activity can be used as an online reading game using hot potatoes. I've scanned a few of the pairs and put them into Hot Potaoes:
Try this: Hot Potatoes Matching

Tip: Showing your good work to others "in public" can make you proud. Good work will be noticed and appreciated. Other learners will follow the good examples.
Writing simple books with bookr
Origami Storybooks
Have a look at the examples below. Print one of the pages and learn how to fold the books.
Follow this link to learn how to fold these simple books. A3 paper works best, but A4 will still be readable.
Leave a Reply
You must be logged in to post a comment.